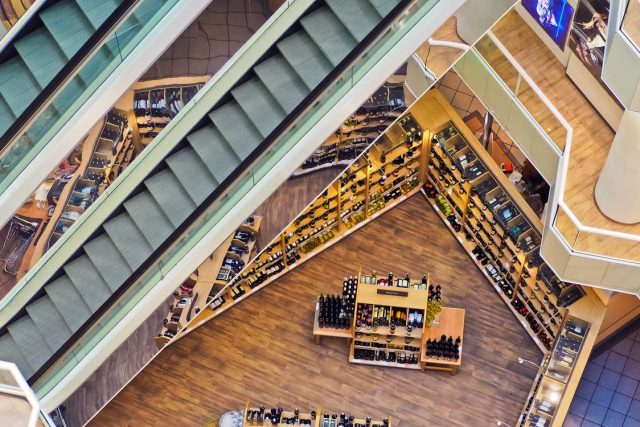 Makati City is a shoppers paradise, with several world-class malls located within its borders. If you're looking for high-end designer brands or some good old-fashioned retail therapy, Makati City's malls have you covered.
It is one of the best places to shop in Metro Manila. There are a lot of shopping malls here that offer a wide variety of products and services. You can find everything you need in Makati, whether its clothes, electronics, or just about anything else.
Makati City is a great place to live, work, and rejuvenate if you want to be close to all the commercial areas, retail stores, and shopping complexes the city has to offer.
Here is our Ultimate Neighborhood Guide to the city of Makati's 10 best shopping malls.
Here are 10 of the best shopping malls in Makati City:
1. Century City Mall
Century City Mall is one of Makati's newest shopping malls. It's located in the heart of the city along Kalayaan Avenue, near residential areas in Barangay Olympia and Bel-Air Villages. The mall has over 200 stores. The residential complex of Century City is attached to the mall, so you can live right next to all the action.
Century City Mall is the perfect place to shop for clothes, shoes, gadgets, and books. It also offers a variety of restaurants and cafes to suit every taste. Premier Cinemas offer high-quality Dolby Atmos 7.1 surround sound, making it the perfect place to watch the latest blockbuster movies. The mall also has plenty of tailored boutiques, offering quality products and services. The outdoor spaces are well-designed and offer seamless free WiFi and concierge service. Century City Mall is a modern retail design and architecture masterpiece that offers a remarkable shopping and dining experience for everyone.
Commercial properties in Century City are some of the most desirable in Makati City. Thanks to its superb location and world-class amenities, Century City Mall is the perfect place to shop, dine, and play.
2. SM Makati 
SM Makati is one of Makati's most popular shopping malls. It is a shopping mall owned by the SM Group and managed by SM Prime Holdings. It is located at Ayala Center, cor EDSA, Makati City. It opened in 1963 as the second Shoemart established by Henry Sy Sr. It features The SM Store and SM Supermarket. SM Makati is also connected to the MRT-3 via a pedestrian walkway.

It's located in the heart of the city and offers a wide range of shops and services. You can find everything you need at SM Makati, from clothes to electronics. There's a wide selection of Women's Fashion, Men's Fashion, Children's Fashion, SM Home, and SM Beauty products. If you're looking for a one-stop-shop for all your needs, then SM Makati is the place for you.
The SM Store in SM Makati provides services such as bill payment, ticketing, remittance, currency exchange, and more. You can also find stationery, electronic gadgets, snacks, toys, hardware, and local souvenirs. There are also plenty of restaurants and cafes, so you can refuel after a day of shopping. Residential properties are also near SM Makati including Salcedo Village, Palm Village, and Forbes Park. The SM Store is a great place to find everything you need in one convenient location.
3. The Landmark
The Landmark Makati is a 9-story building that opened in May 1988. It's located at 6751 Makati Avenue, across Fairmont Makati via Palm Drive. It has 4,500 sq m of shopping space spread across 5 floors, with the ground floor dedicated to a supermarket. 
The supermarket is designed with warehouses adjacent to it, which allows for a more efficient layout and quicker buying experience for customers. Hugh A. Boyd was the architect responsible for designing all of Landmark's supermarkets. 
You can find just about anything at Landmark, from clothes to cosmetics to electronics. Plus, it's air-conditioned, so you can shop in comfort no matter what the weather is like outside.
In addition to the supermarket, Landmark Makati also has a chapel on the premises known as The Mary Mother of Hope Chapel that can seat 1,300 people. Given its central location and array of amenities, it's no surprise that renting residential properties near The Landmark Makati is a popular choice for many people, especially in the Ayala Avenue district.
4. Power Plant Mall
The Power Plant Mall is a shopping mall located at the Rockwell Center, Rockwell Drive in Makati, City. It is near residential properties in Rockwell Center and commercial properties in the Makati Central Business District (CBD). The Power Plant Mall has a floor area of 46,700 square meters. It was developed and is managed by Rockwell Land Corporation, a subsidiary of Lopez Holdings Corporation. The Power Plant Mall was designed by a Toronto-based architecture firm, Design International.

It is home to Rustan's Marketplace, an eight-screen cinema, and high-end stalls from food and drink, health and beauty, and home furniture. Apparel and accessories, perfume and jewelry to service centers and specialty stores are also available here like Yabu: House of Katsu, Din Tai Fung, Santis Delicatessen, Belo Medical, Bernhardt, Pandora, Swarovski, Cabanna Living, Charles and Keith, CMG, Estée Lauder, HSBC, illy Cafe, Rolex, Zara.

Power Plant Mall is one of the most convenient shopping malls in the metro. It can be easily reached from residential areas like J.P. Rizal Avenue and Guadalupe Viejo via Estrella, and from the Makati CBD via Kalayaan Avenue. The mall is also connected to the Guadalupe MRT station on EDSA, making it extremely accessible for commuters. With its central location and superb connectivity, Power Plant Mall is the perfect place to do your shopping, dining, and entertainment needs.
The Power Plant Mall is a popular hangout for both residents and workers in the area. On weekdays, the mall is filled with office workers doing their lunchtime shopping or grabbing a bite to eat. On weekends, families come to enjoy the weekend sales or have a leisurely meal. There are also many events held at the mall throughout the year, such as fashion shows, concerts, and exhibitions.
5. The Link
The Link is a parking and retail building that is situated on Makati Avenue corner North Drive, Ayala Center, Makati City. It was built to hold the establishments of Park Square which was demolished in 2011. The Link has parking on the top levels and a commercial area on the first and second levels, with Anson's having the most considerable space.

The Link is a multi-product shopping center for electronic appliances for home and kitchen, entertainment systems, and gadgets. Fast food restaurants and food stalls are also found in The Link like Buddy's restaurant and Pancake House. Some restaurants with international cuisines are around the area as well, such as Beni's Falafel, Filling Station Bar And Cafe, and Royal Indian Curry House. It is also near the residential properties on Makati Avenue, so it is a convenient location for shopping and dining for residents in the area.
It is the perfect place to park your car when you're visiting the commercial area on Buendia Avenue. It's within a 500-meter walk from the shops and restaurants in the district, so you can easily pop over to grab something while you're parked. And if you need any shopping or dining recommendations, the friendly staff at The Link will be more than happy to help you out. 
6. Paseo Center
Paseo Center is a community mall developed by Megaworld. It is located at 8757 Paseo de Roxas Avenue and has establishments from retail, dining, and services. Paseo Center is the perfect place for those residing or working in the center of Makati City. It is near residential properties on Paseo de Roxas Avenue like One & Two Roxas Triangle Towers along Cruzada St.

Paseo Center has something for everyone with shopping areas at Rustan's Supermarket, Anker, and Office Warehouse. Dining options include Pho Hoa, Ramen Kagetsu Arashi, Rufo's Famous Tapa, Mcdonald's, Illy Cafe, J.Co Donuts and Cafe, The Baking Crew, Icelavie, The Sandwich Guy, and Dairy Queen. 
It is surrounded by popular commercial properties along Paseo de Roxas like the BDO Equitable Tower and Philam Life Tower; and near Philcom Building, Universal Reinsurance, and Ayala Triangle Gardens Tower 2. There are also banking and other services available at Paseo Center including ATM BDO, Clinica Konsulta, LTO Satellite Office, Metro Dental, Nailandia, and LBC. With its convenient location and various establishments, Paseo Center is a great place to hang out, do some shopping, or grab a bite.
7. Greenbelt by Ayala Malls
The Greenbelt area of Makati City is a bustling hub of activity, and the mall is at the center of it all. It's located in the residential area of Legaspi Village, known for its upscale shops and restaurants. If you're looking to treat yourself to some luxury items, Greenbelt is the place to go.

It offers a world-class shopping and dining experience, with indoor and outdoor options. Shoppers can discover new and amazing fashion, footwear, and accessories at Greenbelt like Escada Sport, Anello, H&M, Mark Bumgarner Studios, and Bally. Diners can enjoy a gastronomic adventure with an amazing lineup of cuisines, tastes, and flavors at Ayala Malls like Ippudo, Nanyang Kopitiam, Lusso, and Shake Shack. 
Greenbelt has an outdoor space sprawling a 12-hectare park, offering remarkable retail, dining, and entertainment options. Along Legaspi Street and Gil Puyat Avenue, the residential towers are arranged in a crescent around this central park. 
Aside from its aesthetic beauty, Greenbelt has top-notch amenities that include a cinema, parking, customer lounge, WiFi, and breastfeeding areas. The Spa and Piandre Salon offer relaxation and stress relief for visitors. The condominium complex near Greenbelt is a popular residential option for those who want to be close to the action since the complex offers easy access to the mall. 
8. Glorietta by Ayala Malls
Glorietta by Ayala Malls is a shopping complex located in the Makati Central Business District, near residential properties on Ayala Avenue and premier hotels. It is also close to main transport terminals making it a convenient stop for office workers, students, and families. The mall has a wide selection of shopping, dining, and entertainment options, organized into different zones. There is something for everyone at Glorietta, making it a popular destination in the city.

The mall is part of the Ayala Center, a large commercial complex that also includes condominium properties situated in San Lorenzo Village. The mall has many shops like mobile tech accessories like Aukey and communication solutions such as PLDT are available to you, while Octagon Computer store is your go-to-store for all your computer needs. If you're looking for fashion brands like Uniqlo, G&G, Fino Leatherware, Converse, and The North Face, Glorietta has got you covered. 
You can also find restaurants like Buffet 101, Modern China, Dekada, and Italianni's. There's also a grocery store called Rustan's Supermarket. With so many options available, the mall is sure to have something for everyone.
Glorietta also offers a variety of amenities for its visitors, including a concierge, cinemas, parking areas, and customer and family lounges. The mall is also pet-friendly and has designated smoking areas, as well as mass schedules through Christ's Commission Foundation at Glorietta 5. 
9. Makati Central Square
Makati Central Square (MCS), also known as Makati Cinema Square, is a commercial and residential complex in the Pio Del Pilar district. The complex was developed by the Rufino family and was relaunched in 2018. They were pioneers in owning and managing movie houses including the now-defunct Capitol Theater in Escolta in 1974. The complex is also home to the TIU Theater, which hosts film showings, theatrical plays, and other performances including cosplays.
MCS comprises two residential towers, a retail podium, and a five-level parking garage. The retail podium features a variety of shops and restaurants. It is home to collectible items and is still considered a hobbyist's sanctum. Original establishments like Bebop, Armscor Shooting Center, Superbowl Alley, Audiophile, Booksale, and Eskinita Gallery are still present, along with newer additions like the Sen Lek Thai, and Subaru Square Resto Bar. While known fast-food chains like Shakey's, Mang Inasal, Jollibee, McDonald's, and KFC are still present in the area. It is a 3-minute drive from The Beacon Makati staycation suites in Chino Roces Avenue, Makati City.
10. SM Jazz Mall
SM Jazz Mall is a retail podium located in Bel-Air, Makati City. It is near the condominium complex of SMDC Jazz Residences situated along Nicanor Avenue, formerly Reposo Street.

SM Jazz is one of the most popular shopping destinations in the Bel-Air area. It is home to several SM flagship stores, including SM Hypermarket, SM Appliance Center, Watsons, Ace Express, and BDO. 
Restaurants at the mall include fast-food chains, casual dining spots, and more upscale establishments like Vikings Luxury Buffet. With its convenient location and wide range of stores and restaurants, SM Jazz Mall is the perfect place to shop, dine, and relax.
The mall is a great place to hang out with friends and family, and it is also a great place to get your shopping done. Whether you need groceries, clothes, or just a new book to read, you can find it all at Jazz Mall.
We've got you covered with this comprehensive guide to 10 of the best shopping malls in Makati City. And don't forget that we also have listings for residential and commercial properties on sale like a condo, an apartment, and a single-family house, near these amazing shopping destinations.
Whether you're looking for rental spaces for your commercial establishments or even a piece of land or office space, there's something for you here in Makati City. 
Happy shopping!