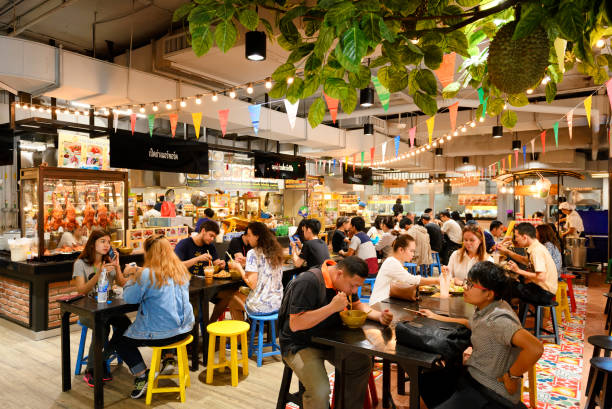 Taguig City has a buzzing atmosphere not just for its residents and tourists but also for young professionals who are making a living in the area. The city's food hubs are one of the places you should explore when in Taguig. From hole-in-the-wall restaurants to fine dining establishments, there's definitely something for everyone in Taguig City.

Here are the places you can go to have an amazing food trip in Taguig City:
1. Burgos Eats
If you're looking for a food court with a variety of options, look no further than Burgos Eats. This food hub is home to a number of different restaurants, so you're sure to find something to your taste.
The food court is also the hub of cyclists or runners early in the morning. Burgos Eats is a great place to have breakfast, lunch, or dinner. And if you're looking to save some money, take advantage of the happy hour specials!
2. Uptown Food Hall
Uptown Food Hall is a good option if you're looking for a quick bite. The food court offers a variety of fast food and casual dining options, as well as a few gourmet restaurants.
It is also a good meet-up and hangout place with your family and friends. The ambiance of the food court is also classy and well-lit, making it a good place to relax and people watch.
3. Food Choices
This particular food court is situated in the Market! Market! Food Choices is filled with fast food restaurants and food stands ideal for always being on the go.
4. The Food District
The Food District is in the Lower Ground of One Bonifacio High Street Mall. This is a go-to place if you are craving a specific dish.
They have food stalls that offer and restaurants that offer several delicacies and dishes that are waiting for you to taste. Some of the restaurants inside the food court are the following: Bakmi Nyonya, Pepper Lunch, Hawker Chan, and Seoul Good! Korean Restaurant.
5. SM Aura Food on Four
SM Aura Premier is well-regarded as one of the beautiful malls in BGC. Its food court, the Food on Four is also a good place to have a sumptuous meal.
The food court has a unique ambiance and interior design, giving the customers a different experience. The restaurants inside also do not disappoint as they offer a good variety of food choices.
6. Bonifacio Stopover
After strolling down in BGC Bonifacio Stopover can be your destination.
It is a great place to hang out with your friends and family as it has a good selection of restaurants, fast food chains, and coffee shops. It is also within the vicinity of famous hangout sites such as malls, parks, and museums.
7. Venice Grand Canal Food Hall
If you want to have an Instagram-worthy meal, head on over to the Venice Grand Canal Food Hall.
Located on the ground floor, it provides a wide array of cuisines and delicacies that surely palate your tastebuds.
As soon as you are finished with your meal you can experience riding the gondola in the Venice Piazza and mesmerize yourself with the beauty of Venice without traveling far from home.
8. Kiwami Food Hall
Kiwami is one of the popular food halls in Taguig. The restaurant has the finest karaage that is truly a must try.
Kiwami Food Hall is also accessible just a few walks from Bonifacio High Street and The Fort Strip. If you want to dine with your friends and colleagues after work, this is one of the best options for you.
Dining in Taguig City is a delightful experience as the city offers different cuisines and delicacies from all over the world. With its growing number of high-end restaurants, food courts, and food hubs, it is no wonder why Taguig is becoming a popular destination for foodies. So whether you're looking for a quick bite or a luxurious dining experience, Taguig has something to offer.