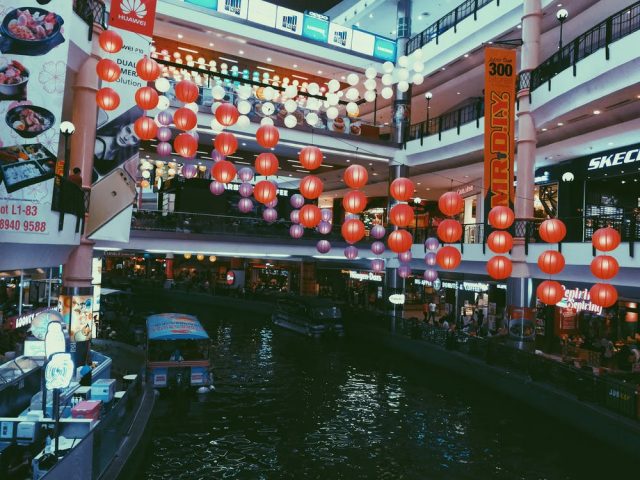 Taguig City is famous for being a business and lifestyle hub, especially in Bonifacio Global City where there are dozens of parks, art installations, and hangout sites that reflect its lively atmosphere attracting both residents and tourists alike. There are also high-end and stylish malls perfect to spend time with your family and friends on your break after spending a long time at work. But don't worry, we've got you covered. In this article, we'll show you several malls that can pick your interest.
Here are the malls and commercial establishments that you may explore in Taguig City:
1. Uptown Mall
For starters, let's take a look at Uptown Mall. This high-end shopping center is another great option, especially if you're looking for a place to relax and unwind. This upscale mall has a more laid-back atmosphere, with plenty of restaurants and cafes to choose from. 
Uptown Mall is just a few minutes away from luxurious condominiums such as Grand Hyatt Manila and Madison Park West. If you also want to watch the latest blockbuster film, Uptown Mall has world-class cinema experiences that would complete your day.
2. Venice Grand Canal Mall
Venice Grand Canal Mall is one of the famous destinations in Taguig City. Situated in McKinley Hill, the urban planning and design of the area are patterned after the Southern European style of Architecture.
Here, guests can enjoy what it is like in Europe without traveling outside of the country. Some of the highlights of the mall is the Venice Piazza inspired by Piazza di San Marco, mall-goers can experience riding through the canals of Venice in a gondola. 
3. SM Aura Premier
If you want a posh mall experience, then SM Aura Premier is the perfect place for you. This ultra-modern shopping center is one of the newest malls in the city, and it definitely lives up to its name. The mall has high-end stores that offer the latest fashion trends, as well as a wide variety of restaurants to choose from. 
You can also find a food court in case you want to try different cuisines. SM Aura Premier also has a Sky Park situated on the 5th floor of the mall. Guests can enjoy the picturesque view of both the Makati and Taguig Skyline. Landscaped gardens and the grand staircase are Instagrammable spots in the city.
4. Market! Market!
If you're looking for something a little more low-key, then check out Market! Market!. This mall is known for its wide variety of shops and restaurants, as well as its central location. 
It's the perfect place to do some people-watching or to grab a bite to eat in between stores. Market! Market! is also surrounded by art installations and parks that are great for leisurely strolls or chill in the middle of the day. 
5. Bonifacio High Street – Central Square
Bonifacio High Street Mall is the place to go if you're looking for upscale shopping and dining. It is also surrounded by several parks that include One Bonifacio High Street Park, Track 30th, and Terra 28th. 
Bonifacio High Street is also a walk away from your home or public transportation. Spacious sidewalks surround the premises, which makes it perfect for an evening stroll or jog.
6. Vista Mall Taguig
If you want to have a premium shopping experience, Vista Mall Taguig is the place to be. It consists of hundreds of stores and dozens of restaurants inside the premises such as MESA Filipino Restaurant, Pancake House, Max's Restaurant, and Yellow Cab Pizza. 
The mall is also in a prime location making it accessible and convenient to go. Vista Mall Taguig is just a few minutes away from condominiums such as Grace Residences, Royal Palm Residences, and Tres Palmas.
These are just some of the malls that you can find in Taguig City. No matter what your budget is, or what your preferences are, you're sure to find a mall that suits your needs and lifestyle. So go out and explore the city, and find the perfect place to shop, dine, and relax.