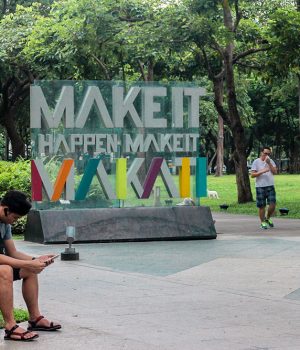 Manila's financial business district is bustling this July with events.

Take your pick from business-related events to further your knowledge and your network, to social events held in Makati's glittery 5-star venues, to gritty down-to-earth parties where you can rub elbows with the locals.

Full Moon in Capricorn Gong Bath with Rosan Cruz
17 July at Anam Cara, 161 Neptune
The healing art of sound expunges the negative effects of the two eclipses in July

Remembering in Solace
20 July 2019 at Altro Mondo Gallery, 1159 Chino Roces, Brgy. San Antonio
"Remembering in Solace dives deep into the meaning of comfort in the midst of disarray and explores the realm of memory in stillness. The artists translate these recollections into various interpretations on canvas and other media, somewhat they become remnants of a particular moment in time."

Paper Weight
20 July 2019 at Altro Mondo Contemporanea, Greenbelt 5, Makati
""Paper Weight" examines paper and its convenience and significance. Believed to have been invented in China during the Han Dynasty, paper has always been used for writing and printing. However, the true weight of paper relies on the roles it plays in the society: land titles, banknotes, money, invaluable drawings, bus tickets, toilet paper, and the list goes on. The heftiness or the buoyancy of paper depends on what the society allows it to bear."

IT Management Forum Philippines
25 July 2019 at Makati Shangri-la
Get your burning IT questions answered and network with some of the brightest minds in the business

20:20 Turns 3!
27 July 2019 at La Fuerza Plaza, Don Chino Roces Avenue, Makati
Over 20 live acts and DJ's light up three different stages at Manila's favorite underground club celebrates its third birthday

Digital Marketing Leaders Philippines
31 July 2019 at Spaces, Makati Arnaiz Avenue
Enhance your digital marketing efforts through an afternoon rubbing elbows with thought leaders; meet others in the marketing space

Wine After Five
31 July 2019 at The Barrel Room Cafe, Nicanor Garcia Street
Join the members of the British Chamber of Commerce as Daniel Blais, Chief Sommelier of Wine Depot, brings you on a wine journey through France, Chile, and Australia.

List your events with us! Contact us at info@housinginteractive.com for questions, concerns, or to list your event.