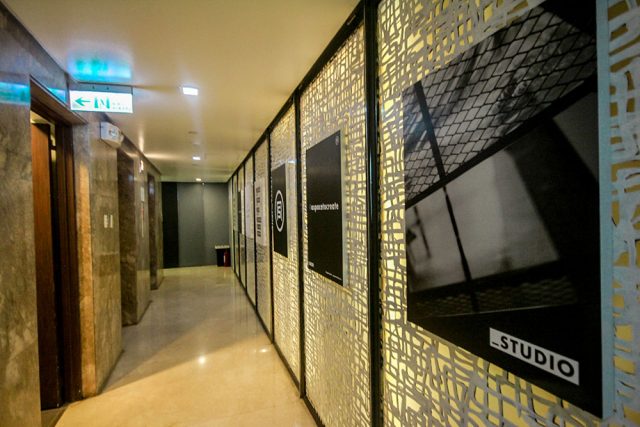 Talk about disruptive.

Matt Morrison, a highly creative and motivated Brit, decided he needed something special in Manila.

A place where people could work, network, thrive, produce, and drink really good coffee. (And sometimes, beer or wine.)

Nowadays, there's a coworking space on every block.

But ASPACE began the trend half a decade ago, sticking out like the Black Sheep Rockstar in the middle of the dry and uber-corporate virtual offices and business incubators.

The Interiors
Matt, and his team, are disruptors. They have breathed much fresh air into how business is done, from the small companies to the remote working individuals that have populated ASPACE's funky halls.

The award-winning creative hub features a variety of seating options, so you can take your laptop and plonk yourself down wherever you feel most productive, be it an ottoman, a seat on a balcony overlooking the street, a bar stool, a carpet, or a shared desk. If your team needs it, feel free to reach out to them, and they'll see about setting you up with a short-term office space that they can even decorate for you.

Whether you're a single individual looking for a space with fast internet, flexibility, and the possibility of meeting other fascinating creative individuals like yourself, or teams 20-people strong, ASPACE has a spot for you. It'll likely spur on the creative juices.
The Businesses
There's been a bunch of businesses that have called ASPACE home over the years.

Satellite offices of media publications and digital marketing agencies…a recruitment firm…remote workers representing local arms of businesses based in Singapore, the UK, Australia, or the USA…start-ups…

As long as you're encouraged and inspired by the playful creativity of ASPACE, regardless of which branch you choose over the country, you'll find a flexible setup that can accommodate different kinds of needs.

Some people visit ASPACE just to use their conference rooms, whereas some set up shop permanently in ASPACE's punk-y rooms.

The Events
One thing that differentiates ASPACE from its competitors is its events.

The Greenbelt branch has a gallery that's the space for many an art exhibit, talk, and acoustic concert. It also has a kitchen, outfitted with drool-worthy stainless steel apparatuses, where people host demos and get-togethers.
Every once in a while Matt, with the help of his incredible team, will host a huge event (such as the RBL.ION.MNL Unconference of 2016); these events are great opportunities to learn, discover, network, and play.

Stay tuned to ASPACE's news to stay abreast of the new stuff going on in…yup…this space.

CONTACT ASPACE MANILA AT https://www.facebook.com/aspacemanila | http://aspace.work or (02) 542-7842 (Greenbelt). They operate 24 hours but if you want to speak to one of the officers, office hours are probably best.

ASPACE sites:

ASPACE Greenbelt
ASPACE Crossroads (Cebu)
_CAMP at Chino Roces, Makati
ASPACE Poblacion, Makati