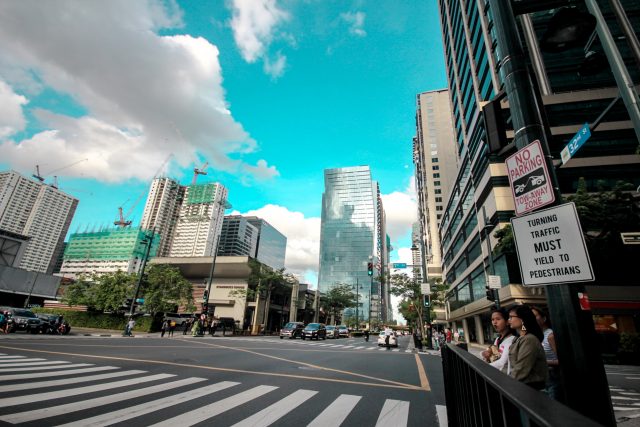 Are you trying to get around Metro Manila without a car?

Maybe you're anti-emissions and are trying to live a more eco-friendly lifestyle.

Maybe buying a car just isn't in the cards for you right now.

Maybe you leave the car and driver to your family and choose to take public transportation instead.

Maybe you find parking fees and toll fees way too expensive.

Whatever the reason may be, getting around Metro Manila without a car may be challenging — but it's not impossible.

Here are some tips to help you navigate the metropolis:

1: FAMILIARIZE YOURSELF WITH RUSH HOUR!

The more cynical denizens of Manila will warn you that every hour is rush hour. Traffic is such a huge part of life in Manila, that you'll simply have to compute for the extra hours when going from appointment to appointment. But there are windows when traffic is more manageable.

Take a few days to observe traffic in your area. Expect some trial and error; there will be days when you'll leave at a sensible time (say, 8 am) and be hit with gridlock due to an accident or heavy rains. It's quite normal; Manila is one of the only cities worldwide where "I got hit with traffic" is a perfectly good excuse for being late! (Just don't use it too often!)

In the financial districts of Makati, BGC, and Ortigas, traffic is heaviest between 8-10 am, and again between 5-8 pm.

In school districts, expect heavy traffic (even inside gated villages like San Lorenzo, Ayala Alabang and Alabang Hills, and Dasmarinas Village!) from 7-7:45 am, and 3:45-5:30 pm.

On the highways and thoroughfares like South Super Highway and the North Luzon Expressway, trucks will be on the road and causing gridlock between 9 am to 4 pm, and again between 8 pm to 6 am, from Monday to Saturday.

2: THE LITTLE TRAINS THAT COULD

Assuming you're brave enough to try the Philippines' train system, it would be a good idea to keep the train routes handy in your smartphone or in your wallet. The MRT plies EDSA from North Avenue to Taft. LRT 1 goes from North Avenue to Baclaran, going west first then south from Monumento down to Baclaran. LRT 2 bisects the Metro from Santolan to Recto, going West all the way.

There is no definite train schedule, though trains double up during rush hour (which is precisely when you should avoid the trains).

Although the trains are reliable (they don't choose passengers, unlike white taxis; there's no price surge, unlike ride-sharing apps; and there is always a train coming no matter how long you have to wait your turn), they get rather full. Guards will stop allowing passengers in once the volume of people starts getting unsafe–and "unsafe" can often mean the equivalent of body surfing inside the car!

LRT lines 1 and 2 operate between 5:30 am and 10 pm on weekdays, and 5:30 am and 9 or 9:30 pm (respectively) on weekends. The MRT runs between 5:30 am and 10:30 pm from Monday to Sunday.

3: OTHER FORMS OF TRANSPORTATION

The Philippines lags behind in public transportation infrastructure; a new arrival, either a tourist or an expatriate looking to relocate, should manage their expectations. Nevertheless, the Department of Transportation provides several options to choose from:

Grab is a popular ride-sharing choice for expatriates and most Filipinos from the middle class upwards. It acquired Uber in April 2018, and has since maintained a strong foothold in the country.
Quickly gaining popularity is Angkas, a ride-sharing app for motorcycle riders ("angkas" is Tagalog for "motorcycle back-ride"). Motorcycles offer a quicker way from A to B, although riders are exposed to Manila's changeable weather conditions.

Point to Point Buses are quickly gaining popularity, doing away with the Filipinos' stigma that public transportation is only for the underprivileged. These busses are more expensive than public buses, but are a lot cleaner and more comfortable. They derive their name from their strict policy of one onboarding destination and one or two descent stops (depending on the route). Routes include Makati to Alabang, Cavite to Makati, Nuvali to Makati, Quezon City to Makati, BGC to Alabang, and more.

White or yellow taxis are quickly going out of style thanks to Grab (although Grab does have Grab Taxi, which features white taxis on call–a cheaper version as opposed to booking a private car). Make sure to demand "metered fare"–it's against the law for the drivers to insist on a tip or a set fee.

Jeepneys are the topic of much debate as the WWII relic, and Filipino icon, is quickly getting outdated. The government proposes a more eco-friendly version to hopefully rehabilitate Manila's dismal environment–a solution that will drive many of the jeepney drivers, who live below the poverty line, into a total lack of employment. Some jeepney drivers are senior citizens who've been driving jeepneys since their youths, taking care of their beaten-up vehicles as carefully as possible, saving what little they earn to put their children through school. The fares are cheap, and disembarking is easy–just yell, "para, boss!" at the top of your lungs!

Tricycles are the Philippines' version of the tuk-tuk. Tricycle drivers are usually a friendly bunch, and are known for trying to pile on as much as they can into their tiny vehicle. "Trike" drivers can only ply the routes set for them; they go from point A to point B, but are happy to stop at any point in between as long as the MMDA doesn't holler at them!

Public buses — well, ride at your own risk. We do recommend the air-conditioned ones, and sit as close to the driver as possible. If you're heading down to Puerto Galera though, these come in pretty handy. Provincial buses are a safe and affordable option for getting to the outlying provinces.

A TOP TIP

Keep your belongings as close to you as possible. Stay alert of your surroundings. Don't fall asleep en route, no matter how tempting it may be. And above all, be friendly. Filipinos are a friendly bunch; your Grab driver might crank up the tunes and sing along with the radio if you mention you like his music, and everyone is happy to give directions if you get lost. Nevertheless, it's good to stay alert, and keep your stuff from the itchy fingers of pickpockets!

What's your favorite mode of transportation? Do you have any tips on getting around the city without a car? Share in the comments below!