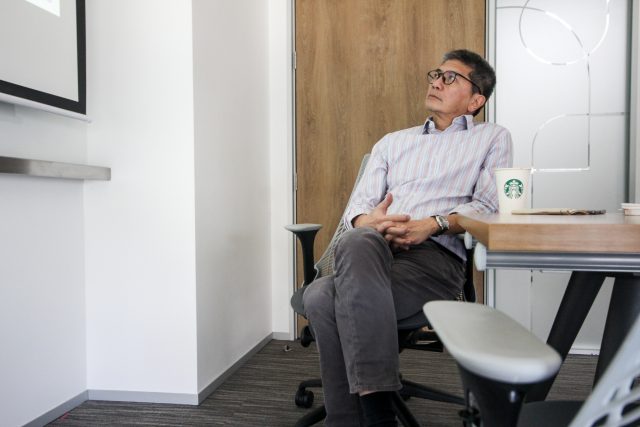 David Rafael, president and CEO of Aboitiz-land, proclaims passionately: "As long as I'm able, I'll do things that are productive."

The man has discovered the fountain of youth. As a matter of fact, he'll happily tell you he's a senior citizen. He knows he doesn't look it. He describes himself as a lifelong learner. This thirst for knowledge keeps Dave young. His approach to life is a curious one, with the Pursuit of Knowledge as the worthiest of values.
Being the head of Aboitiz-land is no easy endeavor. It's quite the task to drive the business into the future, with incessant land developments and property improvements that impact the face of the country. Yet Dave approaches it with a relaxed, positive attitude. He reclines in the chair of the Aboitiz-land boardroom situated in glitzy Ore Central, steeples his fingers, and chats with us about real estate in the Philippines.

Not without a twinkle in his eye.
Tell me a little bit about the journey that has brought you to this point.
I took my MBA at the University of Virginia. My first job was in insurance! Then I joined the banking industry. When the EDSA Revolution transpired in 1986, I moved back to the Philippines. I've been here ever since. I was with Ayala Land for 21 years, then SM Prime for 8 years. I joined China Fortune Land for 2 years. I've been part of Aboitiz since January.
Do you feel you made the right choice to move back?
I think I made the right decision. A lot of my friends in the US have been laid off because of the recession, and the Lehman Brothers scandal. If you're laid off in the US at my age, do you think you'll get another similar position? If you're a Vice President and you lose your job in America, do you think it'll be easy to find another Vice Presidency? Downturns, financial crises, they've hurt people in America. I'm glad I'm home. I'm glad I'm still productive and learning at my age.
Why didn't you stay in banking?
Real Estate is so dynamic. There are so many different types of Real Estate. Think about some of the wealthiest individuals in the world. Xu Jiayin, the Chirathivats, Donald Bren, Hugh Grosvenor…even Donald Trump. A large percentage of their wealth is caused by Real Estate. I am challenged by Real Estate. It's always growing. So I'm always learning.
What has changed in Real Estate since you started in the industry?
Before, the focus was on Manila-centric urbanization. The boom of high-rise developments. The opportunities were in Manila. Filipinos had a tough time following a decent living outside of Metro Manila. In Manila, there were insufficient places to stay. So, property developers focused on high-rises and commercial spaces in the capital. The consequences were worsening traffic, congestion, increased crime. Now though the focus has shifted. The trend is moving towards developments outside of Metro Manila.
Is it true that traditional retail is dead? How does that affect retail Real Estate?
eCommerce has made a big impact on how we shop, for sure. But I don't think eCommerce will affect luxury. If you want to buy a branded bag or an expensive pair of shoes, you don't want to do it online. You want to go to the store and experience the product first-hand. eCommerce will continue to affect "fast fashion," but I think luxury goods are safe. However, malls will shift to more food and entertainment concepts, less of fashion and beauty. Things that people can't get online. Life experiences.

How do you see the growth of Real Estate in the near future?
Real Estate is supposed to be cyclical. Boom or bust. The cycle is anywhere between 8 to 10 years. But Philippine Real Estate has been on the up since 2009. There's no sign of it stopping. It looks like Philippine Real Estate will experience continuous growth. We won't experience a bust. More like a correction. The market will plateau, then go up again. Just this year, a property on 32nd Avenue (in BGC) was sold for one million pesos per square meter. You think that's expensive? Well, somebody bought it. There's still demand. People are willing to buy. Makati, BGC and the Bay Area — these are areas of immense growth. But for the average person, you have to think. What's the buying cost? How much do you have to rent it out to gain any ROI? Best to look outside of Metro Manila.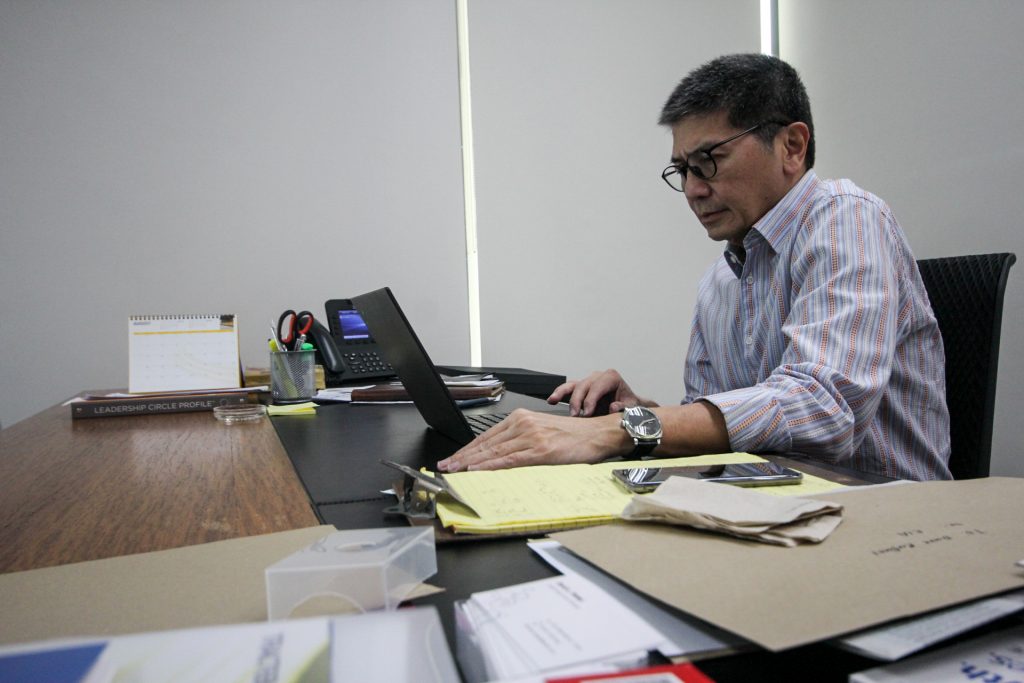 What's Aboitiz-land up to?
We have lots of projects. We're developing a New Industry City in LiMa, Batangas — at the border of Lipa City and Malvar City. It'll house industrial, residential, commercial, institutional, hospitality, and retail properties. It's a shift to more integrated property development.

You are so productive! Most people your age are looking forward to retirement.
I'm not! What is retirement? It's an artificial concept. I'm a lifelong learner. The only time I'll stop learning, working, growing, and dealing with people is when I'm physically unable. As long as I'm able, I'll do things that are productive. I'm a motivated type of guy. I'm motivated when I learn something new.

What interests you?
Literature. Movies and documentaries. Real-life stories. (Ed.–therefore, more opportunities for Dave to learn and grow through the example of people who've led lives as extraordinary as the one he currently leads.)

Last but not least–how do you know John Riad (owner and founder of HousingInteractive)?
Ha! John is my lucky charm! He always laughs when I tell him. You know why? I wasn't very active in real estate. My very first real estate investment with my own money was with John. He brokered a Rockwell unit. Because of that—I bought it, I held it, then I sold it, and I made a lot of money. John is lucky!